Healthy and beautiful hair brings confidence from the inside out. Sue Leung, the creator of Arganmidas, has devoted herself into professional hair care products in beauty industry for decades and commits to providing healthy high-end professional hair care products. She wants to bring beauty and confidence to everyone who uses Arganmidas.
After years of exploration and research, our professional hair care brand Arganmidas was born. In order to stand out from competitors' brands, Arganmidas focuses on making high-quality hair care products. The brand uses the award-winning miracle oil — Argan oil as basic formulation, and all products use high-standard raw materials; its appearance, by applying Argan nut as the prototype, is creatively moulded into a twisted waist bottle which has been patented; Its fragrance is exotic, pleasant and memorable, conjuring an experience of an unique sensory journey.
Arganmidas has made its appearance in more than 50 countries and regions in the world. Witnessing the transformation of their hair instantly revitalizes, going from damaged to shiny, smooth and manageable, many consumers become more beautiful and confident. They share the magic of this Argan oil hair care product, which earns a high reputation for Arganmidas.
Arganmidas always keeps in mind its mission, namely "a way to healthy hair and healthy lives". With 7 products pioneering in the beauty industry at the very beginning, Arganmidas now has a full line of hair care products, and has grown into an iconic beauty brand. It has vigorously expanded to the oversea market and become a highly popular brand among the high-end consumers.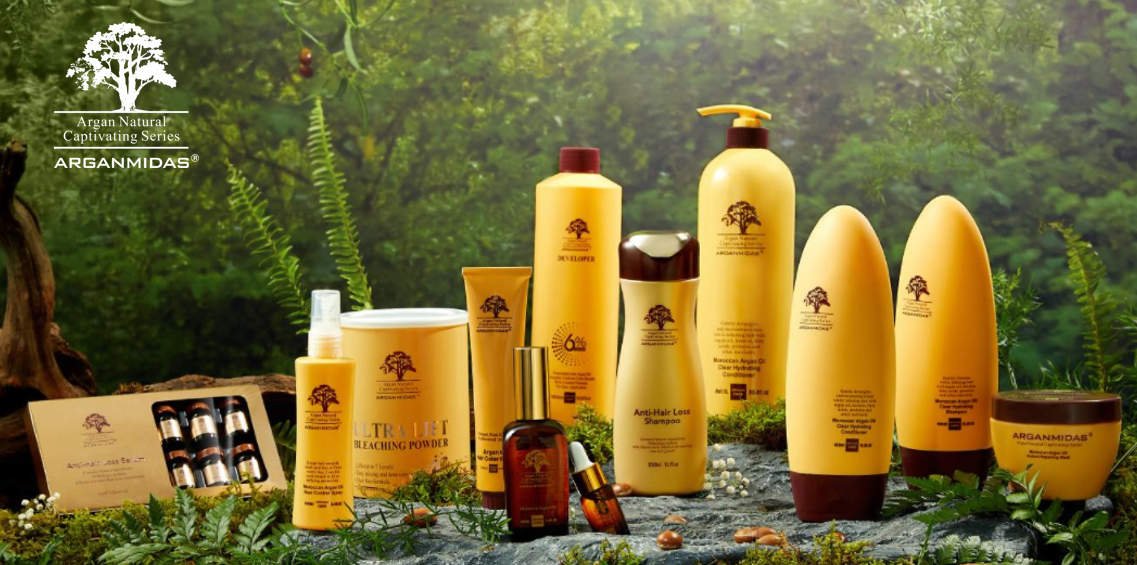 OUR SERVICES
With strong R&D and production abilities, strong brand and premium product quality, 0% complaints in 10 years, we provide BRAND AGENT/ DISTRIBUTOR SERVICES, OEM / OBM / ODM SERVICES.
We are looking for agents and distributors. Welcome to contact us!  whatsapp: +8618594029186. Email:arganmidasofficial@gmail.com.